Paris, Notre Dame's Island Guided Tour, Shared, maximum 20, with Sainte Chapelle & Marie-Antoinette's Prison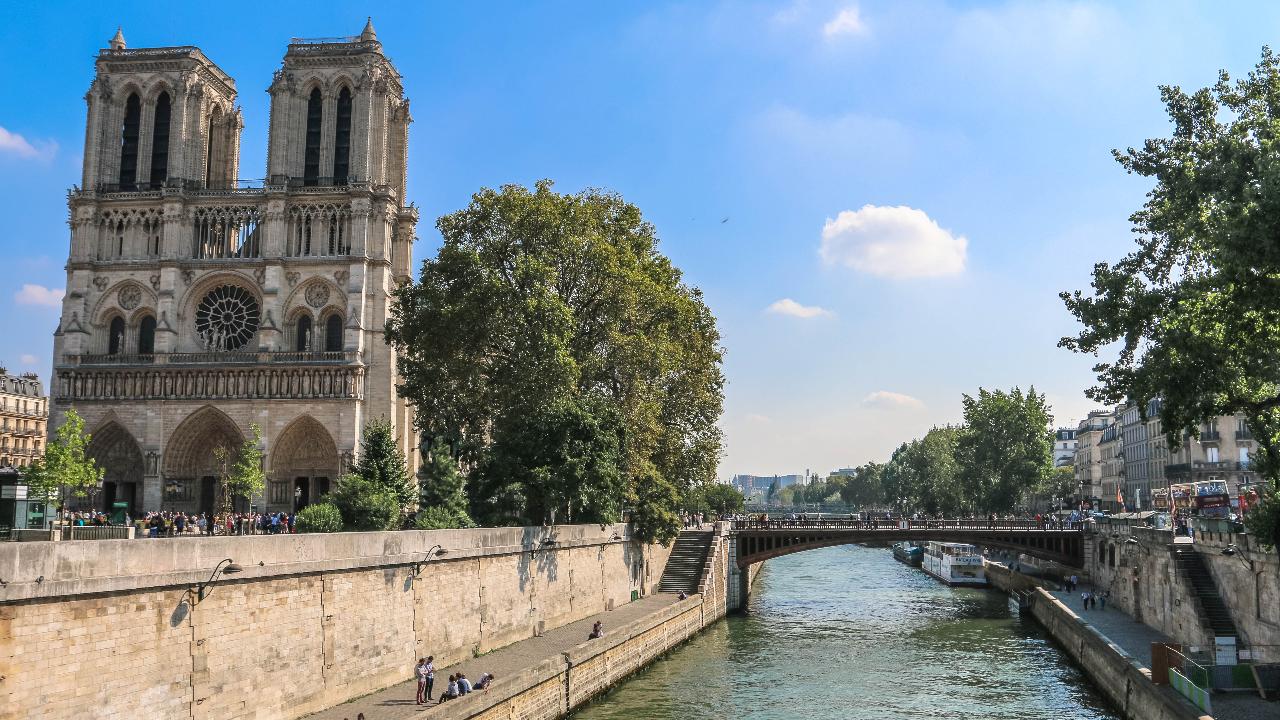 Duration: 3 Hours (approx.)
Location: Paris
Product code: NDI2.75SH
Did you know that there are two islands on the river Seine, and that Paris was founded on one of them, the Ile de la Cité? Join our guide for a fascinating walking tour of this charming and historical island, home to some of the most dazzling medieval architecture in the city.
We'll start our tour on the Left Bank, in the Latin Quarter, home to scholars and intellectuals since the founding of the Sorbonne University in the 13th Century. We'll pass by the famed bookstore Shakespeare & Company, gathering place for the literary legends of the 'Lost Generation' - Hemingway, F Scott Fitzgerald, Gertrude Stein and many others - who made Paris both their home and the artistic center of the world.
You will then see the imposing gothic structure of Notre Dame Cathedral. Built in the 13th century, this magnificent edifice has recently survived a devastating fire, yet she is still standing proudly as the symbol of the city. Learn of her incredible construction, the mastery of her medieval architects and builders, and watch history unfold before us as she readies herself to stand tall for another eight centuries. We will see the exterior of the cathedral, you can admire the imposing sculpted facade and bell towers, the flying buttresses still holding the structure of the cathedral together today, and learn of her glorious past, including tales of the famous Hunchback.
Then it's a short stroll through the charming flower market to the Sainte Chapelle, home to some of best-preserved and most breathtaking stained glass in the world. Built in the 13th century by the King Saint Louis, 80% of the walls are covered by remarkable colored glass windows. Once again you will skip the long entry lines, and your guide will teach you how to read the stories on these centuries old masterpieces, as you admire the astonishing multi-colored light flooding the chapel.
Our last visit is to the Conciergerie, built as a medieval palace but most famous as the prison and last home of Queen Marie Antoinette during the French Revolution. See the cells where the prisoners were kept, including the cramped cell of Marie Antoinette, where she was imprisoned until she was taken to the guillotine in 1793.
Enjoy strolling through the streets of this charming island with your guide, hear the fascinating stories of it's long history, see one of the prettiest squares in Paris, and end your tour on the oldest bridge in the city.